Above is my Koi pond. I built it in October of 1999
and redesigned it in May of 2000
it contains Eight Koi, Two Shabunkins, Two
Butterfly koi, 25 to 30 goldfish, 8 Tadpoles
and various forms of pond life.
It is made from a flexible liner that is just over Eleven ' long
& Five ½' at its widest point. About 30" deep.
Somewhat of a dog bone in shape
and holds approximately 650 gallons of water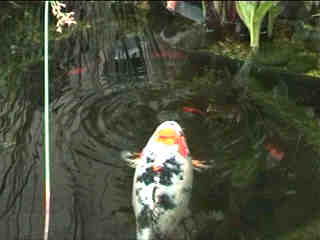 I am always looking for ways to improve my pond,
do you have any suggestions?
Or would like any advice on your own pond project?
Understand I'm not a professional nor do I claim to be an expert.
My fish & pond are however, doing quite well .
My Koi have more then doubled in size over the past year
& all are very healthy.
Click the arrow & go to the next page

Click below to return to my home